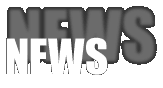 JOHANSSON & SPECKMANN - New Single "Confessions Of A Vital Leader"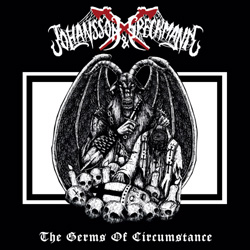 JOHANSSON & SPECKMANN have unleashed another song from their upcoming fifth full-length "The Germs Of Circumstance", coming on October 9th 2020 via Soulseller Records!

"Confessions of A Vital Leader" is streaming now at this location: https://youtu.be/-DAGPsi8GQI

Once again the two Death Metal bulldozers are backed up by drummer Brynjar Helgetun and deliver monstrous, dark brooding heaviness. Faster, harder and more aggressive than before!

The album's artwork was created by Arvin Palma.

Tracklist:
1. The Germs of Circumstance
2. One World One Leader
3. Take the Lions Share
4. I Was Left to Stare
5. Generations Antidote
6. Confessions of A Vital Leader
7. Provoke the Collective
8. Devour Engage the Hour the Rage

Line-up:
Paul Speckmann - Vocals
Rogga Johansson - Guitars, Bass
Brynjar Helgetun - Drums

https://www.facebook.com/Johansson-Speckmann-225899484206206 +++ http://www.soulsellerrecords.com

---
REPUKED - New Video Clip "Sewer Rain"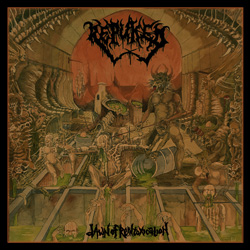 Swedish Deathers REPUKED have published another video clip for their upcoming new album "Dawn Of Reintoxication".

Check out "Sewer Rain" here: https://youtu.be/1u8wh_ObXmc

The band's third full-length will be released on October 9th 2020 via Soulseller Records on CD, LP and in digital formats.

Recorded at Wing Studios / Stockholm with renowned producer Sverker Widgren at the helm, REPUKED's new material is still nasty and disgusting Death Metal, but with an extremely meatier and heavier sound compared to their earlier recordings.

The album features a front cover by Necromaniac Artworks and additional art by Joe Ravager and Baztart Artworks.

Tracklist:
1. Livers Bleed
2. Fucking Your Fucking Corpse
3. Shitfister
4. Kick Fuck
5. Retribution From Behind
6. Global Burning
7. Dawn Of Reintoxication
8. Vodka Til The Grave
9. Repulsive Erected and Anally Infected
10. Sewer Rain
11. Excursion Through Perversity
12. Morbid Obsessions

https://www.facebook.com/Repuked +++ http://www.soulsellerrecords.com

---
FURNACE - New Trackstream available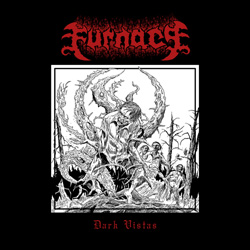 Swedish Death Metallers FURNACE have revealed another new track from their upcoming new album "Dark Vistas".

You can listen to "94 Bloch Lane" now at this location: https://youtu.be/b1b63FNfPLg

"Dark Vistas" will be released on October 9th 2020 via Soulseller Records on CD, LP and digitally. It was produced at the Rotpit and Night Wind Studio and is adorned with a cover artwork by Juanjo Castellano. The layout and logo were crafted by Roberto Toderico.

Comprising members from Paganizer, Demiurg and Assassins Blade as well as Cult Of The Fox and Void Moon, this Swedish outfit explores conceptual Death Metal in a melodic, thrashing and gothic setting.

Tracklist:
1. Suburban Nightmare
2. The Other Ones
3. The Calling
4. Yog-Sothoth (The Key and the Gateway)
5. 94 Bloch Lane
6. Trapped
7. A Journey through Dark Vistas
8. Escape
9. From the Blackest Void
10. Eve of Triumph
11. Another Ending

https://www.facebook.com/blackstonechurch666 +++ http://www.soulsellerrecords.com

---
CURSED BLOOD - Deal with War Anthem Records - Debut MCD/MLP in October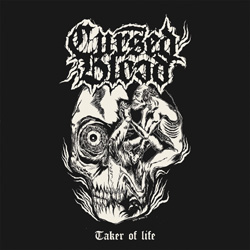 War Anthem Records proudly announce the signing of Greek CURSED BLOOD!

Although a fairly new act, all four members have been involved in different bands for the last 25 years like Dead Congregation, Burial Hordes, Sarabante, Vulnus, Satan´s Wrath and Nuclear Winter.

The idea behind CURSED BLOOD was to play death metal with a crusty-punk attitude referring to bands like Entombed, Disfear or Autopsy.

The MCD/MLP "Taker Of Life" will be released by the end of October via War Anthem Records (Europe/World) and Creator Destructor Records (USA).

Tracklist:
1. The World of Madness
2. Silent Era
3. Taker of Life
4. Nailed
5. Thorns and Nails
6. Backlash Rampage

www.facebook.com/Cursed-Blood-2352299694829154 +++ www.war-anthem.de

---
TONY MARTIN - Deal with Battlegod Productions - Album Announcement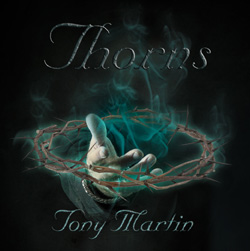 TONY MARTIN, former Black Sabbath singer, signs with Battlegod Productions Australia for his upcoming solo album "Thorns". The album is licensed in all of North and South America by Dark Star Records.

Talking about the new album Tony had this to say: "This new album is probably the most "Tony Martin" a Tony martin album has ever sounded!! It's got several surprises that will lift people's eyebrows I am sure. Largely but not entirely based around the riffs of Scott McClellan, new to the world scene he has proved to be a worthy partner in crime for this release… I was able to make some great songs out of the riffs he was coming up with which is very similar in the writing sense to that which I experienced with Tony Iommi. Different sound and style but the riffing talent that someone like Scott has is very cool.
It is diverse, melodic, powerful, thought provoking and of a standard high as ever i have worked on. I believe there are stories still to tell, songs still to be sung and with this album i feel it's achieved everything i could have wished for.
Grateful to the people who have given their extra talents in appearances on this recording, it's been a challenge in COVID lockdown, getting everyone's performances from across the world, but in another way it was a perfect opportunity to get it done."

"Tony Martin is one of the best Metal vocalists of all time and lyrically brilliant and musically fantastic, a True Heavy Metal Legend." - Peter Kotevski / President / Battlegod Productions.

"Tony Martin has one of the best Metal voices that I have ever heard and his words and music are timeless." - Jeffrey A. Swanson / President / Dark Star Records

The new album will feature Danny Needham (Venom), Magnus Rosen (HammerFall), Scott McClellan (who helped co-write the album) and Greg Smith who performed with Alice Cooper, Rainbow, Blue Öyster Cult, and many more!

Track Listing: - As The World Burns – Black Widow Angel – Book Of Shadows – Crying Wolf – Damned By You – No Shame At All – No Where To Fly – Passion Killer – Run Like The Devil – This Is Your Damnation - Thorns

www.facebook.com/Tony-Martin-311422092205243 +++ www.battlegod-productions.com

---
ALEYNMORD - Full Album Stream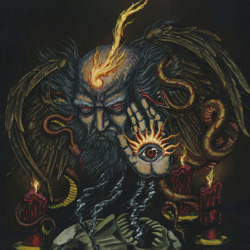 Sonic alchemists ALEYNMORD stream the entirety of their highly anticipated debut album, "The Blinding Light", at Decibel Magazine.

With a range of vocals from a shrill cry, yells, cleans, and even Americana-esque whistles enshrouded by a fog of thick guitars and a walking bass, "The Blinding Light" is a concise collection of tracks which convey this powerful emotion that can only be attempted to describe. Across its four-song/36-minute runtime, peaks of concentrated musicianship are then cut apart by various valleys of acoustic works resembling Death in June nostalgia and forest worship, culminating in a crescendo of domineering solos. The duo of Aleynmord know no boundaries in their enigmatic expression.

A contrast of pain and beauty, ALEYNMORD makes use of every way to describe the emotional poetry of isolation in the wilderness. What results is a plaintive, poignant journey ably bearing the title "The Blinding Light", and beautifully adorned with cover art courtesy of the esteemed Jef Whitehead (Leviathan, Lurker of Chalice).

ALEYNMORD's "The Blinding Light" is set for international release on August 28th 2020 via AOP Records.

Tracklist:
1. Spores of Possession
2. Wounded Monolith
3. The Blinding Light
4. Poetry of Marrow and Rot

www.facebook.com/aleynmord +++ shop.aoprecords.de

---
ETERNAL CHAMPION - New Album "Ravening Iron" - Details & Trackstream revealed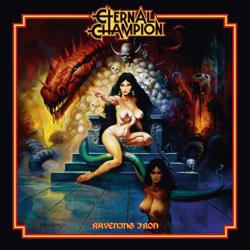 The time has come: ETERNAL CHAMPION's highly anticipated second full-length will be released worldwide on November 20th 2020 via No Remorse Records on CD, LP and in a box set. In US territory, the vinyl records will be exclusively released and distributed by Sword Worship.

Produced, mixed and mastered by Arthur Rizk (Sumerlands, Crypt Sermon, Cavalera Conspiracy, Power Trip, Sacred Reich), "Ravening Iron" has the massive sound that epic heavy metal needs nowadays; faithful to the past, yet fresh and exciting with ETERNAL CHAMPION's unique identity and aesthetic in full presence. The 8 tracks are glorious and uplifting, with heavy riffs, synths, a hard and pounding rhythm section, narrating stories and legends from the depths of time and fantasy.

There is a breath-taking and game-changing aura in "Ravening Iron". A masterful epic heavy metal album; history in the making.

A lyric video for the title track is available at this location: https://youtu.be/4E6J9srKaY0

Cover artwork by Ken Kelly.

Tracklist:
1. A Face in the Glare
2. Ravening Iron
3. Skullseeker
4. War at the Edge of the End
5. Coward's Keep
6. Worms of the Earth
7. The Godblade
8. Banners of Arhai

Line-up:
Jason Tarpey: Vocals, War horn, Hammer & Anvil
Arthur Rizk: Drums, Guitars, Synth, Backing vocals
John Powers: Guitars, Synth, Twelve string
Brad Raub: Bass

www.facebook.com/eternalchampion +++ https://www.noremorse.gr

---
DARK QUARTERER - Join Cruz Del Sur Music - New Album "Pompei" coming this fall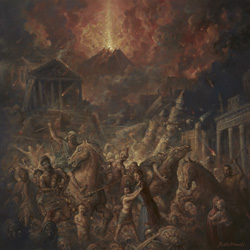 Cruz Del Sur Music is proud to announce the signing of one of Italy's longest-running metal bands, DARK QUARTERER. The label will release this November, the band's seventh studio album, "Pompei", on Compact Disc, Gatefold LP with an amazing artwork provided by Italian Artist Paolo Girardi.

DARK QUARTERER and Cruz Del Sur have a previous working relationship — the label released the vinyl versions of the band's "Symbols" (2018) and "Ithaca" (2015) studio albums. "It was a pretty obvious decision for us to make," says bassist/vocalist Gianni Nepi. "We're honored to join a label with so many great bands and look forward to getting 'Pompei' in front of an even bigger audience."

"Pompei" was recorded this January and February at the band's own W.R.S. Studios in Piombino, Italy. Vocals and keyboards were tracked in May by sound engineer Andrea Ramacciotti, with mastering handled by Alex Marton of First Line Studio in Follonica.

According to Nepi, "Pompei" takes their sound to the next level, expanding on the bold, classic metal-on-prog sound they have been purveying since 1980. "The new album is cruder, perhaps a bit more visceral and intense. It has a dramatic atmosphere that surrounds the entire album — even during the softest of moments."

Now at the 40-year mark as a band, DARK QUARTERER, who also comprise drummer Paolo "Nipa" Ninci, guitarist Francesco Sozzi and keyboardist Francesco Longhi, has faced many obstacles, but the one thing that has kept them together is their friendship, something that has helped the band maintain the same lineup since 2003.

"We have great passion and love for the music we make," finishes Nepi. "Also, the friendship between the four of us really is the glue that keeps us together. Without it, we're not sure we would have lasted this long!"

A making-of / backstage video of the recording process is available here: https://youtu.be/xACp7PDSaNY

https://www.facebook.com/DarkQuarterer +++ https://www.cruzdelsurmusic.com

---
CIDESPHERE - Deal with Testimony Records - New Album "Dawn Of A New Epoch" in November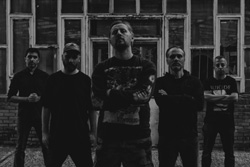 Testimony Records proudly announces the signing of Turkish Death Metallers CIDESPHERE!

The band's sophomore album "Dawn Of A New Epoch" will be released on November 13th 2020 on vinyl, CD & digitally.

Teaser: https://youtu.be/RVWcpctjQFk

CIDESPHERE was formed in 1998 and is considered as one of Turkey's most respected underground bands for years. In 2000 they released their initial work, a split album with countrymates Suicide entitled "Dying in Confusion", followed by the debut full-length "Interment" (Hammer Music) in 2002. The album made a huge impact and is still considered as a unique sample of its kind among Turkish metal music history. CIDESPHERE participated in more than 100 shows, festivals and open airs, before they split up in 2004.

In 2018 the band re-united and after a hardworking period completed the songwriting process for their second album. The recording of drums and vocals were done at Midasın Kulaklığı Studio by Erkan Tatoglu in December 2019. The mixing and mastering was finished at Sound Damage Studio by Unsal Ozata in May 2020.

"Dawn Of A New Epoch" will feature an artwork designed by Delic Saike. More details and a first single will follow soon.

CIDESPHERE consists of Oral Akyol (Vocals), Taylan Firat (Guitars), Aydin Aytac (Guitar/Bass), Basar Cetin (Guitar/Bass) and Goremaster (Drums).

https://www.facebook.com/cidesphere +++ http://www.facebook.com/testimonyrecords

---

OTTONE PESANTE - New single "Serpentine Serpentone" feat. Silvio of Abaton

The Italian brass metal trio OTTONE PESANTE recently announced the new release date of their upcoming album "DoomooD" out on September 18th, 2020 via Aural Music.

Today, the band reveals the second single, "Serpentine Serpentone". The song features guest vocals from Silvio of the doom/sludge band Abaton.

https://youtu.be/vW0_zEmKpq0

The band comments: "Serpentine Serpentone is the fastest and most aggressive song of the whole album, with a vaguely Black Metal sound, which gave us the opportunity to find another precious collaboration. This time we chose a male voice, Silvio, the singer of Abaton. Initially we didn't plan to record his voice, but when we were in the studio, we told him to listen to the track and we asked him if he would like to sing on it. He accepted and here it is!"

"DoomooD" will be available digitally as well as on CD and LP.

Pre-order options: https://tinyurl.com/doomood +++ https://ottonepesante.bandcamp.com/album/doomood

Watch also the stunning video for "Tentacles" feat. guest vocals from Sara of MESSA here: https://youtu.be/H1jqwUbdQ5E

Tracklist:
1. Intro the Chasm
2. Distress
3. Tentacles
4. Coiling of The Tubas
5. Serpentine Serpentone
6. Ocean on a Eco
7. Grave
8. Strombacea
9. Endless Spiral Helix
10. End Will Come When Will Ring the Black Bells

www.ottonepesante.it +++ www.facebook.com/ottonepesante +++ www.auralmusic.com