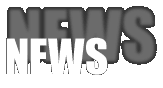 LUNAR SHADOW - New Album "Wish To Leave" - Track Premiere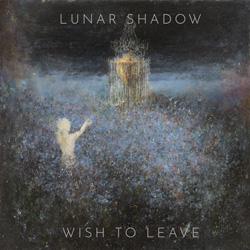 German Metallers LUNAR SHADOW will release their third studio album, "Wish To Leave", on March 19th 2021 via Cruz Del Sur Music.

The opening track "Serpents Die" is streaming now at this location: https://youtu.be/-xbqB8KsRys

"Wish To Leave", featuring an artwork by Denis Forkas Kostromitin, was recorded from July to November 2020 in Leipzig under the careful eye of engineer/producer Max Herrmann; V. Santura of Dark Fortress and Triptykon fame mastered the album.

The six songs found herein are interwoven with melody and darkness with stripped-down guitars and greater emphasis on vocals as well as the rhythmic aspects of LUNAR SHADOW, who are completed by vocalist Robert Röttig, second guitarist K. Hamacher, bassist S. Hamacher and drummer J. Zehner. It is an album sure to intrigue and puzzle - while several Lunar Shadow sonic trademarks remain in place, "Wish To Leave" represents a new direction sound borne out of artistic restlessness and ceaseless creativity from founder, guitarist and songwriter Max Birbaum.

Tracklist:
1. Serpents Die
2. Delomelanicon
3. I Will Lose You
4. To Dusk And I Love You
5. And Silenced Screamed
6. The Darkness Between The Stars

https://lunarshadow.bandcamp.com +++ https://www.cruzdelsurmusic.com

---
DARK QUARTERER - Play the entire "Pompei" Album LIVE to support local theater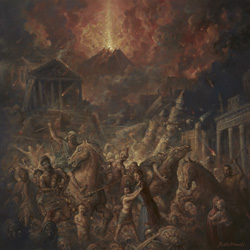 On Saturday February 13th 2021, Italian Prog Metal Legend DARK QUARTERER will stream an exclusive show - featuring the entire "Pompei" album - on Bandcamp.

Find out more here: https://darkquarterer.bandcamp.com/merch/rising-from-the-silence

Due to the COVID-19 outbreak, their local theater shut its door almost one year ago. The band felt the urgency to support their local cultural institution and filmed their complete show in the empty theater.

DARK QUARTERER also started a crowdfunding campaign on Facebook: https://www.facebook.com/donate/710790436279958/710810156277986/

Official band statement: "In this moment we feel it's extremely important to help and support our theaters and cinemas. For this reason we have recorded a show in the "Metropolitan Piombino" theater, here in our hometown. We played the entire "Pompei" album and will make the show available on Bandcamp for a minimum fee of €5. The full income will be donated to the Metropolitan. The theater's been closed for months now and risks to go out of business and be shut down permanently. We believe that - in this current situation - supporting and preserving culture is a priority, even more than ever before. And we wish to thank in advance all those who will help contributing our small "fund-raising" for our local theater."

https://www.facebook.com/DarkQuarterer +++ https://www.cruzdelsurmusic.com

---
SERPENTS - Official Video Clip revealed - "Worship the Reprobate"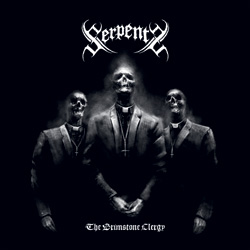 Swedish Black Metallers SERPENTS have revealed a first official video clip!

Check out "Worship the Reprobate" at this location: https://youtu.be/j17XcxwjMMg

The track is taken from their highly acclaimed release "The Brimstone Clergy", which was unleashed by War Anthem Records in November 2020.

Fierce, fiery and unrelenting Black Metal for fans of Setherial, Dawn, Marduk and the likes!

Tracklist:
1. Worship the Reprobate
2. End the Slavery of Being
3. Bring the Apocalypse
4. Shattered Paradise
5. Interlude in B minor
6. Requiem

https://serpents1.bandcamp.com/releases +++ http://www.war-anthem.de

---
THE RUINS OF BEVERAST - New song revealed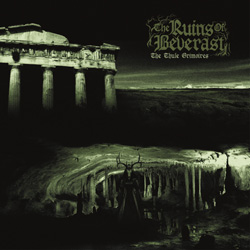 THE RUINS OF BEVERAST have revealed another song from their upcoming new album "The Thule Grimoires".

Listen to "Anchoress In Furs" here: https://youtu.be/4-m2_YtMHEw

"The Thule Grimoires" are THE RUINS OF BEVERAST's 6th spawn in full-length and continue the sonorous wandering across anecumenical spheres that form up and embattle for the ever raging war against poisonous and verminous trespassers of human origin. The seven works evolve around discarnate, spiritful protagonists that join the brave and inexorable powers of nature against their foe. These sceneries are rooted within the familiar TROBesque experience, grim and low-bottomed monolithic tone, enriched with morbid melodic facets and surreal soundscapes.

The release is set for February 5th 2021 via Ván Records!

Tracklist:
1. Ropes Into Eden
2. The Tundra Shines
3. Kromlec'h Knell
4. Mammothpolis
5. Anchoress In Furs
6. Polar Hiss Hysteria
7. Deserts To Bind And Defeat

www.van-records.com

---
GRAVESEND – Debut Full-Length "Methods Of Human Disposal" via 20 Buck Spin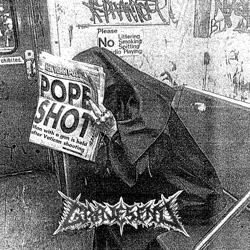 NYC's GRAVESEND have announced their debut full-length, "Methods Of Human Disposal" - set for a release on February 19th 2021 via 20 Buck Spin.

The album was recorded by Nolan Voss, mixed by Arthur Rizk (Power Trip, Tomb Mold) and mastered by Brad Boatright.

GRAVESEND arise with ill intent like a foul emanation from the aging sewage filled rot slowly winding its way beneath the city's vast concrete walls and pavement pathways. A New York of discarded needles, noxious fumes, scavenging rats, broken bottles and cracked minds. Bear witness to savage Black / Death Metal with a hellish Grindcore fixation, searing warped speeds, and the slowly swelling carnage of a derailed subway pile up.

A first track, "Needle Park", is available here: https://youtu.be/PHsZ93toXqo

Tracklist:
1. Fear City
2. STH-10
3. Methods Of Human Disposal
4. Ashen Piles Of The Incinerated
5. End Of The Line
6. Subterranean Solitude
7. Unclaimed Remains
8. Verrazano Floater
9. Eye For An Eye
10. Trinity Burning
11. Needle Park
12. Absolute Filth
13. The Grave's End
14. Scum Breeds Scum
15. Concrete Feet

https://warforgravesend.nyc +++ https://www.20buckspin.com

---
THE GENERALS - New Album "To Hell" via Black Zombie Records - Details & Video revealed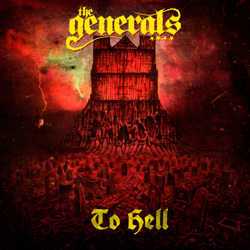 Black Zombie Records proudly announces the third full-length of Swedish Death'n'Rollers THE GENERALS!

"To Hell" will be released on February 26th 2021. It was produced by Tomas Skogsberg and recorded at Sunlight Studio, Black Zombie Studio and Dead Dog Farm. The mix and mastering were handled by Lawrence Mackrory at Dugout Productions (FKÜ, LIK, Baest).

THE GENERALS founded in 2002 with a mission to play dirty Action Rock, but quickly evolved into a Death'n'Roll machine. Even though there is still a vein of Rock'n'Roll throughout the music, the band's new album is more Death Metal than ever before. The mix of crushing riffs, epic choruses and evil melodies makes for a headbanging recipe for success.

A video clip for the title track is available at this location: https://youtu.be/zh7dKiCIdVg

Tracklist:
1. Faith In Fire
2. To Hell
3. Evolution Of The Flesh
4. Thrill Kill
5. Locate Decapitate Incinerate
6. No Atonement
7. Deadlock
8. Demonical Trait
9. Bombardment
10. Undying Death

Line-up:
Rickard Hednar - Vocals & Bass
Rickard Fäldt - Guitar
Marius Tömte - Guitar
Martin Svensson - Drums

www.facebook.com/thegeneralsSWE +++ www.facebook.com/Blackzombierecords +++ www.blackzombierecords.se

---
THE RODS - 40th Anniversary Re-issues via High Roller Records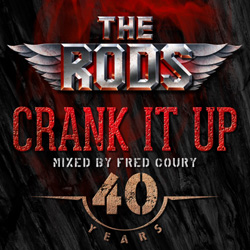 THE RODS – this means 40 years of heavy metal history with many classic albums and legendary metal hits!

Quote from RODS drummer Carl Canedy: "I am thrilled that High Roller Records are doing official reissues of the entire THE RODS catalog! From original sources and with high-quality artwork, as well as bonus material. Finally the fans will have the chance to purchase THE RODS' music as it was intended. It has been an amazing journey and after 40 years we are happy that the fans have this opportunity! There has been various bootleg and low-fi stuff released over the years so this is very exciting for the band as well!"

To celebrate this and 40 years of THE RODS, the band has available on all digital platforms the new 2020 40th anniversary version of "Crank It Up" mixed by the brilliant Fred Coury!

The re-issues will be available in late summer/autumn 2021.

THE RODS are an American heavy metal band formed in 1980 by David "Rock" Feinstein (guitar, vocals), Steven Starmer (bass, vocals), and Carl Canedy (drums, vocals). Their first album was originally released independently as "Rock Hard" in 1980 and the following year the band was signed by Arista Records, who reordered the album tracks and released it simply titled "The Rods". Their second album "Wild Dogs" followed in 1982. All in all the band has released 8 studio albums so far.

www.therods.com +++ https://www.hrrecords.de

---
SATAN'S FALL - "Final Day" - Full Album Stream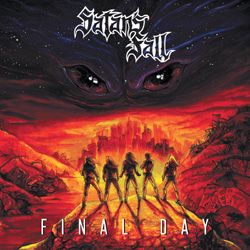 Finnish Heavy Metallers SATAN'S FALL proudly present a full stream of their upcoming debut album!

You can listen to "Final Day" in its entirety at this location now: https://youtu.be/lJZ4rfqKwwI

"Final Day" will be released via High Roller Records on December 11th 2020 on CD, the vinyl version will follow January 22nd 2021. The self-recorded material was mixed and mastered by renowned producer Mika Jussila at Finnvox Studios.

SATAN'S FALL hark back to metal's past while conveying a musical and lyrical depth which sets them apart!

"Juggernaut" - Official Video Clip: https://youtu.be/LfEa_AE6UGk

Tracklist:
1. Forever Blind
2. Madness (Finds a Way)
3. They Come Alive
4. Retribution
5. Juggernaut
6. There Will be Blood
7. The Flamekeeper
8. Final Day

www.facebook.com/SatansFall +++ https://satansfall.bandcamp.com +++ https://www.hrrecords.de

---
SARVEKAS - New Track Premiere "Dark Spiritual Devotion"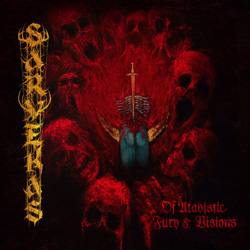 Finnish Black Metal duo SARVEKAS has premiered another song fom their upcoming debut EP "Of Atavistic Fury & Visions", coming on December 4th 2020 via Soulseller Records

"Dark Spiritual Devotion" is available at this location now: https://youtu.be/b87_IYNKYYA

"Of Atavistic Fury & Visions" was recorded and mixed at Ragged Sound Studio by Juha Nikkanen and mastered by Kari Laaksonen (Raja-Audio). The cover artwork was created by Kristina Pavleska.

A momentum of sinister and epic Black Metal, woven with heathenry, Scandinavian mythology and devotion to the dark!

Tracklist:
1. Dark Spiritual Devotion
2. Hexenpyre
3. The Sacred Hour of the Hunt
4. Where No Man Has Trodden
5. Surtr's Breath

www.facebook.com/sarvekas +++ http://www.soulsellerrecords.com

---
THE DEVIANT - New Single "Son Of Dawn"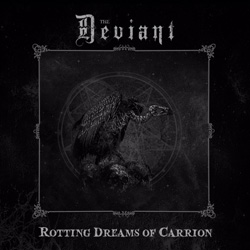 Norwegian Extreme Blackened Deathers THE DEVIANT have premiered a third advance single from their upcoming new album "Rotting Dreams Of Carrion".

"Son Of Dawn" is available at this location: https://youtu.be/8kM8aaK63-0

The band's third full-length was recorded, mixed and mastered by Ragnar A. Nord Varhaug at Studio Valhalla and features a cover artwork by REH.

Coming on December 4th 2020 via Soulseller Records! The vultures are rising!

Tracklist:
1. Atomic Dreams
2. Atomic Revolt
3. Son Of Dawn
4. Torment Inferno
5. It Has A Name
6. Martyrdom
7. Iron Vultures
8. Enter The Storm

www.facebook.com/officialthedeviant +++ www.soulsellerrecords.com