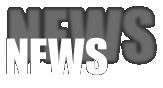 SVARTTJERN - New Trackstream "Melodies Of Lust"
Norway's SVARTTJERN have unveiled a second track of their upcoming fifth full-length entitled "Shame Is Just A Word"!

"Melodies Of Lust" can be checked out at these locations: Youtube +++ Bandcamp +++ Spotify

The successor to the highly acclaimed "Dødsskrik" (2016) will be released on January 17th 2020 through Soulseller Records on CD, LP and in digital versions.

True Norwegian Black Metal - infused with tastes of flesh, satan and misanthropy! Enter SVARTTJERN's dungeon of shame and embrace the madness!

Tracklist:
1. Prince of Disgust (https://youtu.be/KpyKsyPcZiM)
2. Ment til å Tjene
3. Melodies of Lust
4. Ta dets Drakt
5. Frost Embalmed Abyss
6. Ravish Me
7. Bonded by Blood
8. Shame is Just a Word

www.facebook.com/svarttjern +++ www.soulsellerrecords.com

---
THEN COMES SILENCE - Signing with Oblivion/SPV - New Album "Machine" announced for March 2020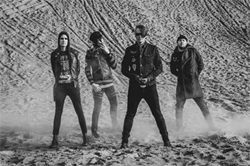 Stockholm gothic rock/post punk act THEN COMES SILENCE, one of the currently most important bands of their genre, have signed with SPV/Oblivion! The arrival of the new studio album "Machine" has been announced for March 13th 2020, with the lead single "We Lose The Night" to be available on 10 January 2020 for digital download/streaming and more singles to follow.

Soon after the album release, the band surrounding vocalist/bassist Alex Svenson is also scheduled to embark on an extensive tour, including a number of festival shows, among them the M´era Luna in August 2020.

At the same time, THEN COMES SILENCE are ready to introduce their new line-up. Along with Svenson and drummer Jonas Fransson, guitarists Mattias Ruejas Jonson and Hugo Zombie complete the band. Jonson used to play with A Projection, Zombie toured as a guest/temporary musician of Then Comes Silence with Fields Of The Nephilim, and was a member of Spanish group Los Carniceros del Norte.

Svenson on the recording deal with SPV/Oblivion: "As a band, you need partners who firmly believe in you. After Oblivion A&R manager Gero Herrde had come to see our show at the New Waves Day in May 2019, we knew that we'd be in good hands with him and his label." Herrde is also extremely happy with his latest signing: "We've been following the positive development of Then Comes Silence with great interest for years and are delighted that they will release their new album Machine on SPV/Oblivion next March."

www.facebook.com/thencomessilence +++ www.spv.de

---
PORTA NIGRA - New Trackstream "Das Rad des Ixion"
German Black Metallers PORTA NIGRA have unleashed another track from their upcoming new album "Schöpfungswut"!

"Das Rad des Ixion" is streaming now at these locations: Youtube +++ Bandcamp +++ Spotify

PORTA NIGRA's third full-length will be released on January 17th 2020 via Soulseller Records and leads them back to the roots of more straight-forward, furious and monumental Black Metal art of the glorious 90s era. While musically not comparable to its eclectic predecessors, "Schöpfungswut" still contains lyrical traces of their decadent and fin de siècle-inspired atmosphere, which the outfit became known for.

The production was handled by Markus Stock.

Tracklist:
1. Die Kosmiker (https://youtu.be/maGJY4jApeA)
2. Das Rad des Ixion
3. Die Augen des Basilisken
4. Die Entweihung von Freya
5. Unser Weg nach Elysium
6. Schöpfungswut

www.facebook.com/PortaNigraBand +++ www.soulsellerrecords.com

---
DEAD KOSMONAUT - New Album "Gravitas" - Details & Trackstream revealed
Sweden's DEAD KOSMONAUT proudly announce their sophomore full-length "Gravitas"!

The album will be released on January 31st 2020 via High Roller Records.

DEAD KOSMONAUT serve up a variety of styles and song structures and display such an array of influences as to keep even the most discriminating metal fan as happy as a dog with two tails. Such is their mastery!

A lyric video for the stunning opening track "Black Tongue Tar" is available now at this location: https://youtu.be/mLAMhhBbH9o

The Swedes opened their account with "Expect Nothing" in 2017, and followed it up with the "Rekviem" mini-LP in 2019. With a settled line-up consisting of band founder Mattias Reinholdsson on bass, vocalist Pelle Gustafsson (NIFELHEIM), guitarists Fredrik Folkare (UNLEASHED & FIRESPAWN) and Pär Fransson and drummer Henrik Johansson, DEAD KOSMONAUT are largely based in Stockholm.

Mattias states: "I have tried to put together a strong line-up for the band and I am confident that 'Gravitas' illustrates that. It's more of DEAD KOSMONAUT. It's wider and deeper. The heavy stuff is really heavy and the melodic stuff is even more melodic."

Tracklist:
1. Black Tongue Tar
2. Iscariot's Dream
3. Vanitatis Profeta
4. The Spirit Divide
5. Hell / Heaven
6. Gravitas
7. Dead Kosmonaut - Part I
8. Dead Kosmonaut - Part II

www.facebook.com/Dead-Kosmonaut-179075279238707 +++ www.hrrecords.de

---
PALE DIVINE - Signing with Cruz Del Sur Music & New Album Announcement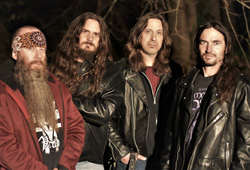 Cruz Del Sur Music is proud to announce the signing of Pennsylvania doom mainstays PALE DIVINE!

Founded in 1995, PALE DIVINE has made a name for itself with its time-honored and distinctive take on classic doom metal. Albums such as 2004's "Eternity Revealed" and 2007's "Cemetery Earth" cemented the band's reputation as one of the best pure torchbearers of BLACK SABBATH and SAINT VITUS-styled doom, while their most recent 2018 self-titled album was hailed by Last Rites as "true-blue doom for the truly doomed."

PALE DIVINE — who comprise of vocalist/guitarist Greg Diener, guitarist Dana Ortt, bassist Ron McGinnis and drummer Darin McCloskey — is currently hunkered down in the studio with producer Richard Whittaker recording their sixth studio album, "Consequence Of Time", which will see the light of day in May 2020. The album's artwork will be handled by Brian Tutlo, the man responsible for the eye-catching "Thunder Perfect Mind" and "Eternity Revealed" covers.

More info soon!

www.facebook.com/serpentspath +++ www.cruzdelsurmusic.com

---
EXHUMATION - New Album "Eleventh Formulae" - Details & Trackstream revealed
Indonesian Death Metallers EXHUMATION proudly announce their new album "Eleventh Formulae" - to be released on February 28th 2020 via Pulverised Records!

With their third full-length, once again engineered under the helm of Devid Salasughi and featuring art illustrations by B. Mors, EXHUMATION unveil a terror-storm of feral and nihilistic sounds.

The opening track "Mors Gloria Est" is streaming now at this location: https://youtu.be/TtLeP6Ub6E4

Wild abandon meets calculated precision!

Tracklist:
1. Mors Gloria Est
2. Inferno Dwellers
3. Formulae I: Malediction Bells
4. Grandeur Dawn
5. Vicious Ecstasy
6. Arcane Dance
7. Formulae II: Ironheart Rapture
8. Ominous Chants
9. Blood Trails
10. Perdition Spells
11. Formulae III: Eleventh Vessel

www.facebook.com/exhumationdevotee +++ www.pulverised.net

---
REVEL IN FLESH - New Videoclip - "The Hour Of The Avenger"
German Death Metallers REVEL IN FLESH have published a video for the titletrack of their upcoming new album "The Hour Of The Avenger"!

https://youtu.be/14M8DKBVI40

"The Hour Of The Avenger" will be released on December 6th 2019 via the band's new label home War Anthem Records. It was mixed and mastered by Dan Swanö at Unisound Studios and features an amazing cover artwork Juanjo Castellano once again.

A lyric video for "Blood Oath" is available at this location: https://youtu.be/i92BFCpQBSQ

Hail the Deathkult!

Tracklist:
1. The Hour Of The Avenger
2. My Trial
3. Blood Oath
4. The Nihilistic Nothingness
5. Sky Burial
6. Deathblow
7. Pervitin Speed Kill
8. The Wayfarer
9. Skull Sacrifice
10. The Nightbreed
11. Rock Out (Motörhead Cover)

www.revelinflesh.com +++ www.war-anthem.de

---
CARONTE - "Hypnopyre" Video Premiere
Ván Records proudly announces the highly anticipated fourth full-length of Italian Heavy Acid Doomers CARONTE, set for a release on December 6th 2019!

After two years since the end of the first magic trilogy regarding the shaman aspects of the works of Aleister Crowley, "Wolves Of Thelema" brings a huge change regarding sound and vibes. The introduction of a second guitar and several synth related to the lyrics treating forces and cosmic entities mark a new era for the band. Produced by Jaime Gomez Arellano at Orgone Studios (Paradise Lost, Ghost, Cathedral, Ulver,…) and adorned with an amazing artwork by Italian artist Alessandro Canu, CARONTE deliver their most atmospherical and evocative album yet.

A video clip for the track "Hypnopyre" is available here: https://youtu.be/UDVmo7Zmmn4

Tracklist:
1. Wolves of Thelema
2. 333
3. Hypnopyre
4. Queen of the Sabbath
5. Amalantrah Sonata
6. Quantum Ecclesia
7. Black Hole Dawn
8. Starway to the Cosmic Fire

www.facebook.com/ferociailluminata +++ www.van-records.de

---
DIE KRUPPS - "Vision 2020 Vision" is out now
"Vision 2020 Vision", the new album of electro/industrial metal pioneers DIE KRUPPS, is out now via Steamhammer/Oblivion/SPV!

A video for the title track is available here: https://youtu.be/7zxUZ2c47Dw

Tourdates & Tickets: https://www.diekrupps.com/tour

DIE KRUPPS have so far operated between these different poles – EBM/industrial and grooving metal – although their focus may have shifted. While "The Machinists Of Joy" (2013) emphasised the electronic element and their most recent album "Metal Machine Music" (2015) featured brutal metal sounds, "Vision 2020 Vision" is a concentrate of the band's ground-breaking period between 1992 and 1997, the ultimate, perfect amalgamation of two musical worlds which DIE KRUPPS brought together back then.

"Vision 2020 Vision" is a concept album: music, artwork and lyrics are inextricably linked, they fuel and cross-fertilise each other. The world of Engler and Dörper is monochromatic and grim, but the imminent world they see through their lens, ought to, and indeed must, frighten you. In all this, DIE KRUPPS's themes are as topical and relevant as ever: "Extinction Time" and "Vision 2020 Vision" describe our world on the edge of the abyss. Chaos and violence rule the streets, governments are powerless. The great flood will come, wash everything away and leave nothing but darkness. "Alllies" and "Fuck You" are directed overseas, where egotism, borders and ruthlessness are dictated from the very top while Europe looks on passively, turning into a compliant minion. "Human" is a reckoning with the whole human race which has been regressing for several decades. Civilisations increasingly turn into hordes of wild, murderous barbarians.

www.diekrupps.com +++ http://www.spv.de

---
KARG - New Track & Tourdates revealed - Project feat. HARAKIRI FOR THE SKY vocalist
AOP Records proudly presents a new song of Austrian project KARG!

"Irgendjemand wartet immer" : https://youtu.be/k7j1IcBHRhc

The track is taken from the upcoming new album "Traktat" which will be released on February 7th 2020. KARG was founded back in 2006, originally as a one-man project, by J.J. of HARAKIRI FOR THE SKY and offers a furious mixture of Atmospheric Black Metal and Post Rock with influences also taken from other different genres.

Furthermore, they announce a release tour with The Spirit & special guests. This will be the only club show tour for KARG in the near future - don't miss it!

07/02/2020 - Oberhausen - Helvete
08/02/2020 - Erfurt - From Hell
09/02/2020 - Hamburg - Bambi Galore
10/02/2020 - Berlin - Nuke Club
11/02/2020 - Nürnberg - Golden Nugget

"Traktat" - Tracklist:
1. Irgendjemand wartet immer
2. Jahr ohne Sommer
3. Stolperkenotaphe
4. Alaska
5. Abgrunddialektik
6. Alles was wir geben mussten
7. Grabcholerik
8. Tod, wo bleibt dein Frieden?
9. Nichts als Schatten (Bonus Track // Bonnie Prince Billy Cover)

www.facebook.com/kargband +++ http://www.aoprecords.de